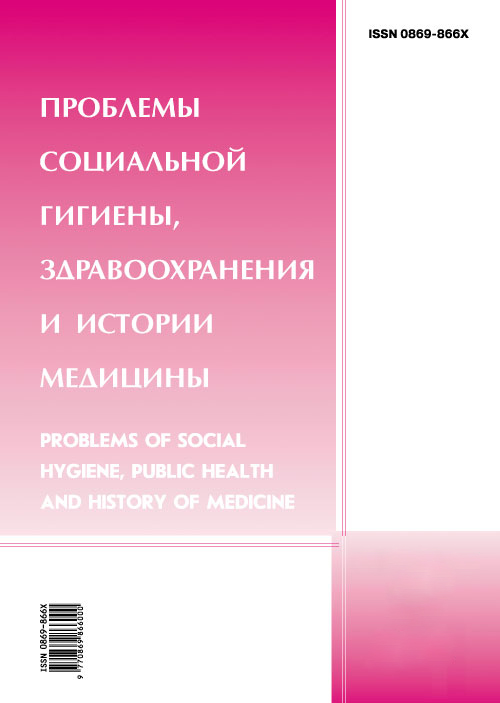 Problems of Social Hygiene, Public Health and History of Medicine
Главный редактор
Хабриев Рамил Усманович – академик РАН, доктор медицинских, доктор фармацевтических наук, профессор.
Учредители журнала
ФГБНУ Национальный НИИ Общественного здоровья имени Н.А. Семашко
ФГБНУ Центральный НИИ организации и информатизации здравоохранения Министерства здравоохранения Российской Федерации
Периодичность
С 1993 года.
Каждые 2 месяца, 6 номеров в год
Подписные индексы журнала
Каталог «Роспечать» — 73302
Индексация
Scopus
Experta Medica Abstract Journals
Index Medicus
Index to Dental Literature
Chemical Abstracts
Current Digest of the Russian Press
EBSCOhost
International Nursing Index
PubMed
РИНЦ
Миссия журнала
— состоит в развитии человеческого потенциала российской науки, в объединении усилий различных категорий исследователей, педагогической и научной интеллигенции, в создании и поддержке единого пространства научной коммуникации в областях фундаментальной и прикладной науки по медицине и здравоохранению. В создании условий открытости и доступности новейших достижений науки практическим работникам, студентам, преподавателям и всем, кто занимается развитием российского и зарубежного здравоохранения и медицины.
Журнал предназначен для ознакомления российской и зарубежной научной и научно-педагогической общественности, а также докторантов, аспирантов, магистрантов, практикующих специалистов и других заинтересованных лиц с новыми научными результатами, имеющими значение в различных областях фундаментальной и прикладной науки.
Цель журнала состоит в популяризации и распространении актуальных и передовых знаний в области развития здравоохранения и медицины широким кругам заинтересованных граждан.
Задачи журнала:
совершенствование тематики и содержания журнала, обеспечение единства теории и практики научных исследований, актуальности и значимости публикуемой информации для развития научных и прикладных знаний;
обеспечение позитивного имиджа Журнала и российской науки в целом, содействие увеличению обратной связи с авторами и читателями;
обеспечение объективности и информативности публикуемых материалов, увеличение авторской и читательской аудитории;
повышение оперативности издания научных статей, электронного и полиграфического качества издаваемого Журнала.
Журнал зарегистрирован в Федеральной службой по надзору в сфере связи, информационных технологий и массовых коммуникаций (Роскомнадзор) (свидетельство ПИ № ФС 77 - 77004 от 11.10.2019).
Announcements
No announcements have been published.
Current Issue
Vol 29, No 2 (2021)